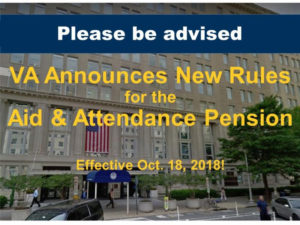 Sweeping VA Changes Should Help
More Veterans in Need
The Department of Veterans Affairs, (VA) has made important changes to the VA Pension with Aid and Attendance. Most noteworthy are eligibility changes that will open the door for more veterans and surviving spouses in need:
1.     Net Worth Limit of $123,600
A limit of $123,600 which will not fluctuate with age or life expectancy.
This amount may change each year with a Cost of Living Adjustment (COLA).
The VA defines net worth as income and assets.
2.     Three-Year Look-Back Period
Beginning October 18, 2018, the VA will look back 36 months from the date of application for any asset transfers to evaluate net worth.
The VA will consider and may penalize the applicant for any assets transferred for less than market value.
Good News for Deserving Veterans and Surviving Spouses
According to the VA, setting the net worth limit at $123,600 allows more claimants to qualify for the benefit than before.
You May Have Clients Who Are Now Eligible
Find out if you have clients that are eligible for this benefit.
If you have any questions about the new VA rules, please contact your region or territory manager. Call 877-390-6377 or email:
info@veteranshomecare.com.
You can find complete information on the VA's Federal Register website: