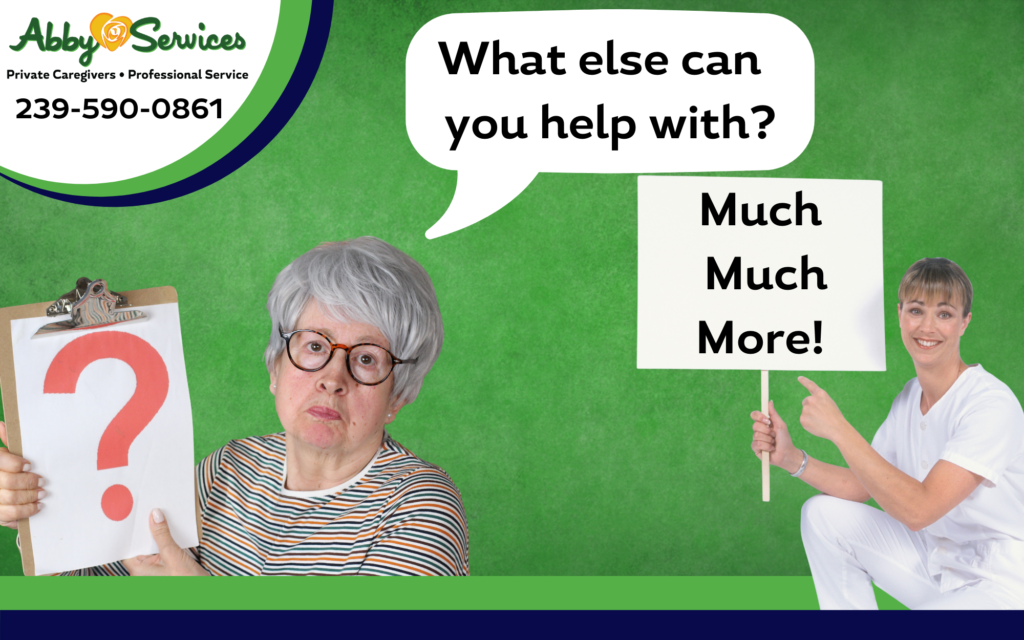 What can your in-home caregiver help with?
A private in-home caregiver can help with so much more than you may have imagined.
We have clients call every day wondering how a private in-home caregiver can help them. As a state-licensed nurse registry overseen by the Agency For Health Care Administration, and The Department of Health, there is a list of things your in-home caregiver can and can't help with.
Often this is simply related to a caregiver's training and licensure. Wound care for example requires a skilled nurse (an RN or LPN) and your private caregiver is not allowed to assist with that.
Overall it is truly a client's choice what they would like help with. The goal is to help clients remain safe and independent in their homes with the support of a private caregiver.
Together with our team, we can help guide a family to develop a client-driven plan of care that meets the needs of their loved one.
Your private in-home caregiver referred by Abby Services can help many things including:
What is your in-home caregiver not allowed to help with?
Your private caregiver is an HHA and/or CNA. Home Health Aides (HHA's) and Certified Nurses Aides (CNA"s) can assist with many things, but there are some things that exceed their level of training and liability. Should you require assistance with the following we recommend discussing with our team strategies to get the help you need at home.
Wait, I thought you said much, much, more?
We did! Here is where much, much more comes into play. There are many things that can come up that are not directly addressed by Abby Services or our licensure. It is up to a client together with their caregiver to determine what they want help with. Some clients and their caregivers are very creative. Additional activities your caregiver could help with include:
Using the pool

Your caregiver can help into and out of the pool and be in the pool while in use. 

Gardening

No, your caregiver is not a landscaper. However, clients who enjoy gardening may be able to more fully participate in this activity with a caregiver to help support and encourage them.

Playing games

Honestly, there are any number of additional activities and games you may choose to partake in. You can always teach your caregiver how to participate in these games or they can simply help your loved one more fully engage in the games they choose.

Reading

Due to vision problems, a client may wish to have their caregiver read the paper or articles to them.

Organizing closets, belongings.

Your caregiver at your loved ones' direction can assist in organizing and cleaning.

Moving

Some request assistance from a private caregiver to assist with the transition to a new home, or senior living facility. Your caregiver can help to pack, unpack, and get situated.
How does your caregiver know what you need?
Your caregiver knows what you need because we work with clients and families to develop a client-directed care plan to guide your caregiver. Our nurse, Scott Strachan has the experience and training, to help families develop a personalized care plan that delivers stability, support, and quality of life.
Developing a client-directed care plan with clear expectations and guidelines allows your in-home care provider to receive direction from the individual who knows the patient best, you.
By developing a personalized list of patient and family expectations, direction, and information, we can help to ensure the in-home caregiver you work with has the tools necessary to be sure your loved one receives the care and support they need.
If you are seeking further input AARP has a guide to help decide when an older adult needs caregiver assistance.