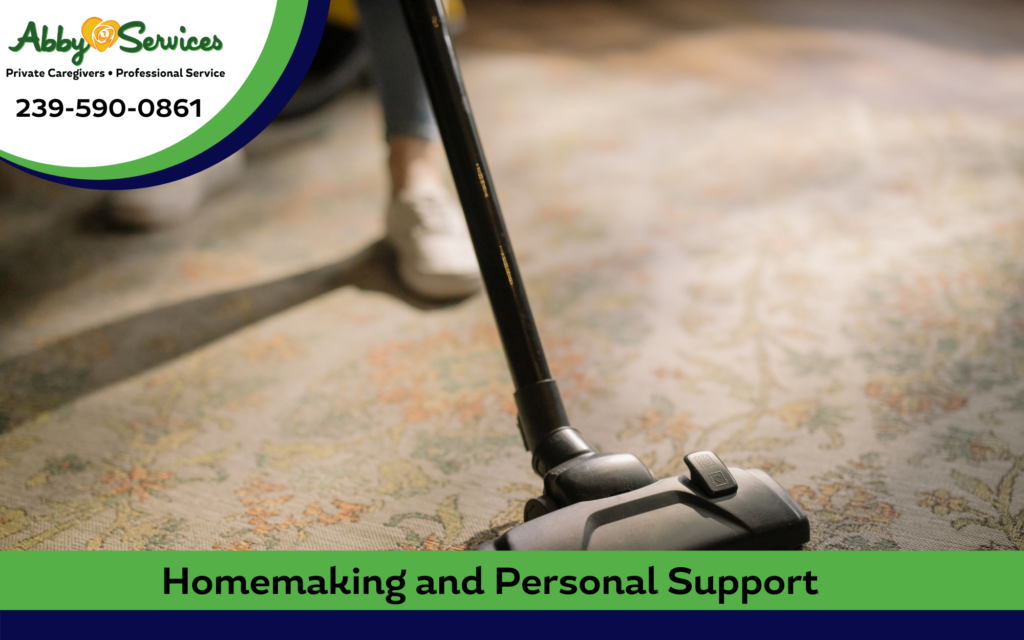 Do you need to find the best in home companion care in Fort Myers?
Abby Services has caregivers available now who can help with homemaking, personal support, and in home companion care! Just call to get started.
Sometimes just a little help can make a big difference.
Many clients only require minimal support to remain independent. With the support provided by a private caregiver, your loved one can receive the homemaking, in home companion, and personal support they need to remain independent and safe. The in-home caregivers referred by Abby Services can help you or your loved ones stay in control, independent, and in their home.
A private in home companion can assist with many things including essential activities of daily living (sometimes referred to as ADLs). However, you or your senior may only need help with things that may seem basic.
Simple tasks become a big deal when they are hard to safely complete. Thats why you need in home companion care.
Many tasks only seem basic because they are routine and can be accomplished without difficulty. It's only when an individual can't complete these tasks independently or safely that we realize the challenges in completing once simple daily tasks.
Many of these tasks we are referencing are referred to as homemaking, in home companionship, and personal support. These activities are things your in-home caregiver can help with as much or as little as you want or need. Tasks include:
Take control of your care. You are the one best suited to manage your care, safety, and independence.
At Abby Services we work together as a team with the individual who is best suited to manage and direct your loved one's care. YOU! You and your family have the support and input you need to direct your in home companion care.
Families work together with our nurse, Scott Strachan who has the experience and training to help families develop a personalized care plan that delivers stability, support, and quality of life. By working together with our nurse families are empowered to develop a client-directed care plan with clear expectations and guidelines allowing your in-home care provider to receive direction from the individual who knows the patient best, you.
By developing a personalized list of patient and family expectations, direction, and information, we can help to ensure the in home companion you work with has the tools necessary to be sure your loved one receives the care and support you want and need.
The care providers we refer are truly what makes all the difference.
When combined with your guidance, Abby Services' expertise, and the specialized training your caregiver has received, your caregiver can monitor, assess, and address your loved one's needs on a personal basis. This is accomplished by developing and adopting a flexible daily routine to support your loved ones in their home.
Flexibility is especially important with constantly changing needs.
Patient and family needs may change frequently when receiving in-home care. We help families and their loved ones remain in control by allowing them to choose how, when, and where they would like their caregiver. By utilizing a personalized, flexible, and tailored approach, we can help families as their needs change. This flexible approach helps to ensure their loved one can remain in-home, and age in place, for as long as they choose.