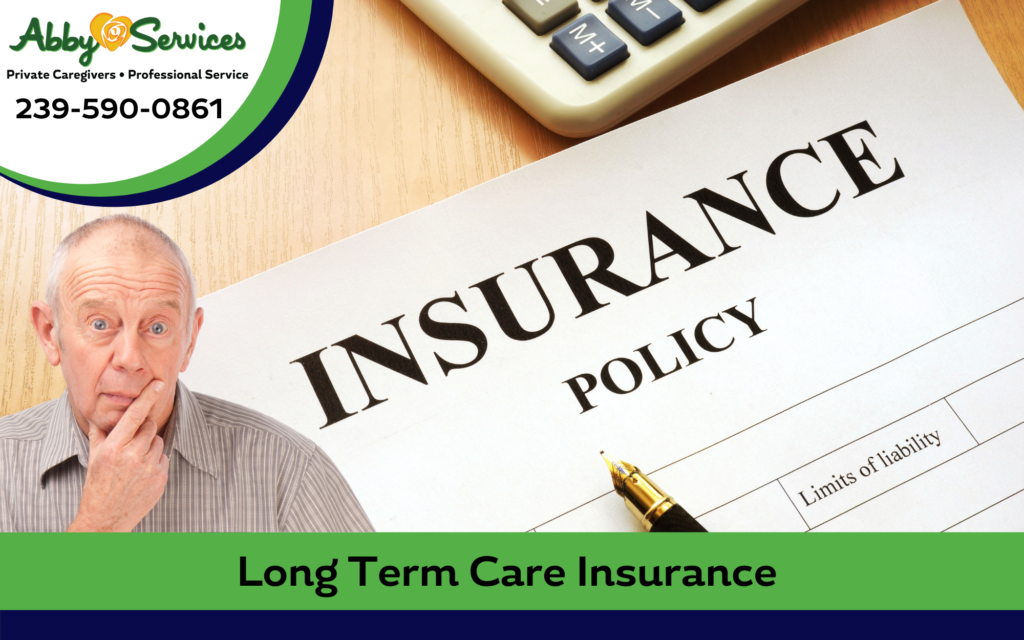 Do you want to use a Long Term Care Insurance policy for In-Home Care?
A long term care insurance policy can help to pay for in-home care.  Abby Services of Fort Myers has the experience and caregivers you need when looking to use your long-term care insurance.
If you have been paying for a policy, you are no doubt eager to make use of the policy.
Just like auto insurance, the time to get long-term care insurance is before you need it. If you have had the foresight to obtain a policy then "congratulations". You have taken an important step to plan and save for the help and support you want.
Unfortunately, when looking to access a long-term care insurance policy a policyholder may not be able to navigate the challenging and confusing claims process. It is easy to misspeak and have a claim denied or delayed. That's why it's important to work with a professional
At Abby Services we are Long Term Care Insurance Experts!
When looking to access a Long Term Care Insurance policy it is important to work with someone who knows the ins and outs of these policies.
We see many patients who purchased a Long Term Care Insurance policy 10, 15, or 20 years ago and have been diligently paying but don't truly understand what the policy covers, or when it will cover them. Ultimately, when it comes time to use this valuable insurance, clients find that the process is confusing and frustrating, with a number of avoidable pitfalls.
That's why it's important to work with Long Term Care Insurance experts. Abby Services can help you find a great in-home caregiver and help you to navigate and access the benefits you are entitled to.
Abby Services of Fort Myers has worked with all major long term care insurance providers!
Not sure where to start in understanding your Long Term Care Insurance Policy?
Every policy is different. It can be challenging to evaluate and explain a policy over the phone. Reading over the policy can be even more difficult. At Abby Services we use our years of experience to cut to the chase to help those seeking in-home care. It is much easier to work with our nurse who is an expert in navigating these policies than to attempt to learn and understand yourself. 
What "triggers" your policy?
When referring to Long Term Care Insurance policies, a trigger is an event, or a series of client needs, where a policy will cover in-home care.
Often policies have a defined point where they will cover in-home care. Some simply require a physician's order stating that in-home support is necessary.
In our experience, most policies are accessed when a client requires assistance with 2-3 out of 5 activities of daily living or ADLs.
Some policies will have what's called a cognitive impairment provision that will often require an exam to assess mental impairment. 
Some long-term care insurance policies, when using activities of daily living as a trigger, further define the level of support you require with ADLs. These are often referred to as active vs passive care or hands-on vs standby assistance.
The distinction between these is important because it is a common pitfall for policyholders to have their claims denied. 
Elimination Period, What is it?
An elimination period, when referring to Long Term Care Insurance,  is equivalent to a deductible on a traditional auto insurance policy. The logic is that you are responsible for paying for in-home care for a preset time frame before your long-term care insurance policy kicks in. Most policies have 30,60, or 90-day elimination periods. Some Long Term Care Insurance Policies have elimination periods that are 0, or the elimination period can be waived when meeting certain criteria.
The challenge is that some policies will further define an elimination period in a few different ways.
Some policies will have a lifetime elimination period which means that care you have paid for that qualifies will always count toward an elimination period. Other policies will limit this significantly and state that the elimination period must be met in as little as 180 days.

Some policies will recognize a week where you had support for as few as 3 days as 7 days of coverage. This never made sense to us but we have seen it.

Policies that waive the elimination period typically require the use of a care manager through the insurance company who will check in and further evaluate your ongoing need for in-home care support.
How much does your Long Term Care Insurance Policy pay?
To get the most out of your Long Term Care Insurance Policy it's important to understand how much it will pay.
In our experience, many customers never fully utilize the maximum benefits covered in their policy. Most policies will name a maximum daily, weekly, monthly, and lifetime benefit.
Often the daily limit is $100. Clients requiring more than their policy covers can opt to pay out of pocket and use their policy to offset the cost of a private in-home caregiver.
The following are recommended steps when accessing a LTC policy.
Gather policy information: While you don't need all of your documents, it is good to start with something that has the policyholder's name, address, and policy number. 

When contacting the Insurance company they will require the policyholder's Date of birth and the last 4 of their social security number. 

Contact the insurance company: We recommend this because no matter what you or Abby Services think your policy says, its utilization ultimately rests with the insurance company. They can help to walk you through the next steps.

The policyholder will need to be present to give authorization for information to be released. You may choose to provide the power of attorney documentation however it is often easiest and recommended to request an "authorization to release information" document. This may be referred to as a HIPPA form and grants the insurance company permission to discuss the policy with whomever you decide. We recommend adding key family members who will be helping manage the policy as well as Abby Services.

You will need to request a claim packet to begin the process. Many insurers will insist on mailing this. Abby Services recommends working with a professional to complete this information to be sure you are not unintentionally denied benefits.

Once the claim packet is complete the insurer will contact the provider (Abby Services) to be sure we have the necessary credentials required to work with the policy. They may separately contact your physician to further determine the legitimacy of your claim. Should the physician documentation be mailed to you we further recommend working with an Abby Services professional to be sure your claim is not denied.

It is recommended to ask an insurance representative how long the approval process will take. This time frame is usually 15-30 or even 45 business days which can translate to months.

It is important to note that Long Term Care Insurance will not prequalify you. What this means is they will not tell you whether you are covered or not. You will need to complete their information, submit a claim, and wait while all of this is being reviewed. All the while you will be paying out of pocket.

Once approved the process is fairly basic. The Long Term Insurance provider will require specific documentation to substantiate the claim. Often this includes an itemized invoice, the care notes documenting services rendered, and an annual physician's order.
What is an assignment of benefits?
 Assignment of benefits or AOB is where a policyholder will tell their insurance company to pay the provider directly. At Abby Services we will gladly accept the assignment of benefits once your policy has started being processed and paying. Ultimately though the policyholder is always the one financially responsible should payment be delayed or a claim is denied.
Abby Services process in helping you manage your long term insurance claim.
We can help Fort Myers and Cape Coral residents get the most out of their long-term insurance plan. There is much to know but ultimately it is the consumer who must make an informed choice in how they wish to manage their plan. When considering accessing a long-term insurance policy you will work with our nurse Scott Strachan to speak directly with your long-term insurance company. Together with our insight, we know the questions to ask to be sure you know what your policy covers.
Do you have Long Term Insurance Policy Questions? We have answers!
To speak with one of our professionals just call 239-590-0861 for a free consultation. Often this can be accomplished with a simple phone call. There is no obligation.