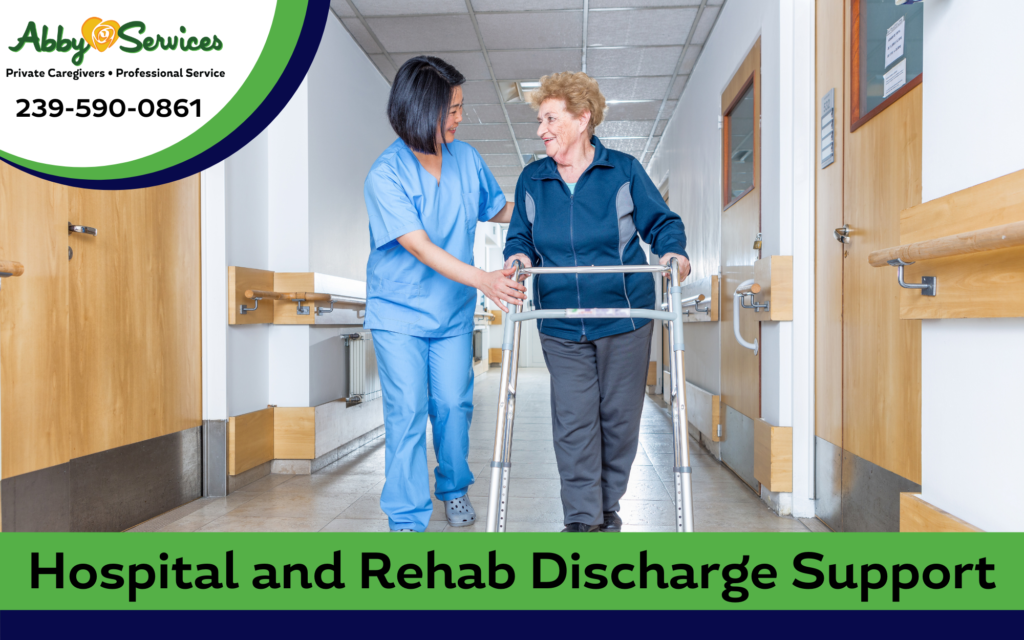 Do you need in-home caregiver assistance upon discharge from a hospital or rehab facility?
Abby Services has caregivers who can help you recover at home. When thinking of your hospital discharge planning, think of Abby Services. 
Even under the best of circumstances a hospital stay and/or rehab stay can be challenging, especially when returning home.
When returning home after a hospital discharge many find that what was once a normal part of the day: bathing, cleaning, cooking, errands, walking the dog, or simply moving around the home can be temporarily or permanently affected. Prior to a hospital or rehab discharge, you should have professionals who will help direct you to resources and things you may need to remain safe. 
Discharge home for some may be unsafe and facility-based care may be the only option due to the increased level of care required.
Discharge to a facility may involve its own special set of considerations. Sometimes after hospitalization patients simply are not ready to return home, even with a private caregiver. Rehabilitation facilities have trained staff to help patients recover in a controlled and safe environment. Even with rehab facility support staff available, patients still need to consider their eventual discharge home. Why? because everyone wants to be at home and age in place. Unfortunately, sometimes in order to return home, major changes will have to be made. Thats what discharge planning is all about.
Are you returning home from rehab? Begin your discharge planning to account for what's next.
With the support of a private in-home caregiver you can receive the help you need with:
Discharge instructions and resources.
Upon discharge from a hospital or rehab facility, you will most likely not be fully recovered and may have some therapy that continues at home. You will be issued instructions on diet, activity, what to be observant for, and avoid.
You may have professionals such as physical therapists, and occupational therapists assigned to help you continue your recovery. A private in-home caregiver from Abby Services can work together to actively assist in PT, OT, and speech therapies by reinforcing and aiding in prescribed activities. It is important to know the roles and responsibilities of each discipline and how they help.
PT (Physical Therapy): help reduce pain and improve movement.
OT (Occupational Therapy): help regain independence with daily activities
Speech & Language Therapy: help with communication, swallowing, and eating.
Private Caregiver: help with recovery and to help remain independent. 
No matter what your discharge planning needs may include we can help.
When discharge planning involves in-home care, our nurse, Scott Strachan has the experience and training to help patients and families develop a personalized care plan that delivers stability, support, and quality of life.
By developing a client-directed care plan that combines discharge instructions, with clear client expectations and guidelines, your in-home care provider can receive direction from the individual who knows the patient best, you.
By developing a personalized list of patient and family expectations, direction, and information, your in-home caregiver has the tools necessary to help you along the path to a speedy recovery.
Want to learn more about how Abby Services can help you recover at home from a hospital or rehab stay? Just call 239-590-0861.