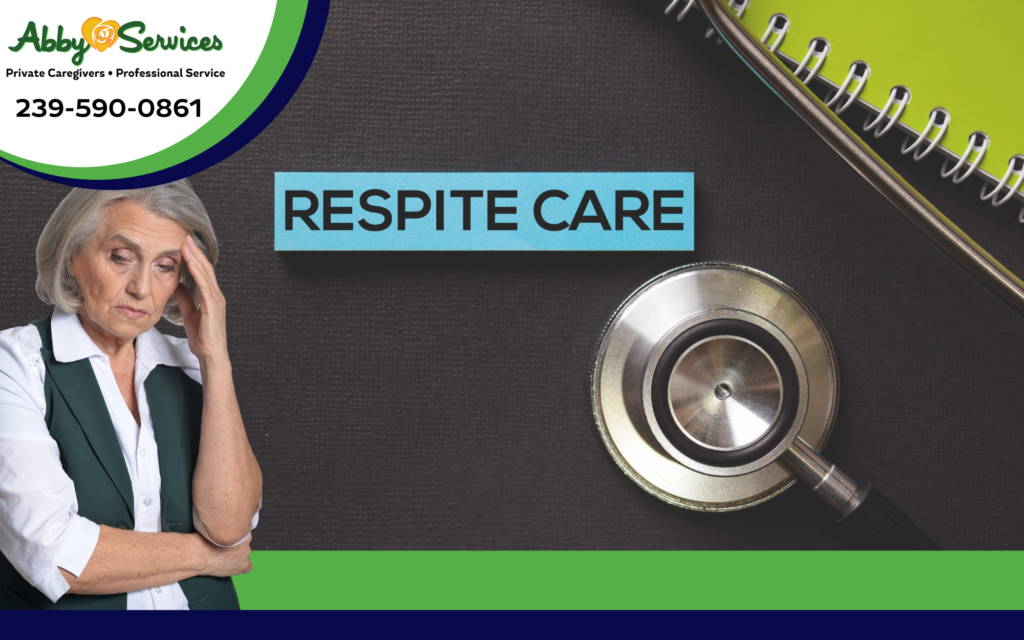 Are you a caregiver for a loved one or spouse who needs a break? Then you need respite care.
Abby Services has been helping residents find reliable respite care in Fort Myers, Cape Coral, and all of Lee County since 1996! Do you need a private caregiver? We can help, call 239-590-0861.
What is a respite caregiver?
Respite caregivers play a crucial role in providing much-needed relief and support to both caregivers and their loved ones. One of the key benefits of respite caregivers is that they give primary caregivers a chance to recharge and take care of their own physical and mental well-being. Caring for a loved one can be physically and emotionally demanding, and caregivers often neglect their own needs in the process. 
Respite caregivers offer temporary relief by taking over the caregiving responsibilities, allowing primary caregivers to have time for themselves, whether it's for self-care activities, pursuing personal interests, or simply getting some rest. This break not only reduces caregiver burnout but also helps them maintain their own health, enabling them to continue providing quality care in the long run.
Another significant advantage of respite caregivers is the social and emotional support they provide to the care recipient. Many individuals who require caregiving services may feel isolated or lonely due to their condition or the limitations it imposes on their daily lives. 
Respite caregivers offer companionship, engaging in meaningful conversations, participating in activities together, and providing emotional support. This social interaction can improve the care recipient's overall well-being, boost their mood, and reduce feelings of loneliness and depression. Additionally, respite caregivers are trained professionals who can address the specific needs of the care recipient, ensuring their safety, comfort, and overall quality of life during the period of respite care.
How can Abby Services help with respite care in Fort Myers and Cape Coral, Florida?
Respite care through Abby Services offers a much-needed break and support system for both caregivers and their loved ones. Respite care services provide temporary relief to caregivers who are taking care of individuals with disabilities, chronic illnesses, or aging-related conditions. Respite care is intended to ensure the safety, well-being, and comfort of the individuals receiving care, while also offering peace of mind to their caregivers.
Respite care in Fort Myers can include a range of services, including supervision, personal care assistance, recreational activities, and social engagement opportunities. The professional and compassionate caregivers we refer work closely with families to tailor the care to the specific needs of the individuals. This allows family caregivers to take a much-deserved break, recharge, and tend to their own well-being, knowing their loved ones are in capable hands.
What is respite care? Do you need Respite care?
Respite care in Fort Myers, Cape Coral, and anywhere else, is planned, or emergency temporary care, to provide relief or respite to a primary caregiver. 
About 1 in 3 adults serves as an informal caregiver to another adult, such as an aging parent or disabled relative.
Although many find the opportunity to care for a loved one to be a privilege, it can also be demanding. That makes finding respite care in Fort Myers important for both the patient and also the caregiver, to prevent burnout.
Respite care helps avoid caregiver burnout.
Caregiver burnout can occur easily. Here is a guide to help recognize the signs of caregiver burnout and provide coping tips.
One easy and effective way to help manage caregiver burnout is by working with a private in-home caregiver to provide some downtime. As a family caregiver, it's easy to put off your own health and well-being when you are constantly needed. We all need downtime to be our best selves, this is especially true when faced with the burdens and stresses of being a full-time caregiver.
To be there for both your loved one who depends on you and yourself, it is important to recognize when you need a break and seek help. 
Respite care offers services and peace of mind to both you and your loved one. From a longer vacation to attending to your kid's everyday needs, you can personalize the service you & your loved one need.
Just like the name implies, respite care offers a break from daily caregiving duties. Abby Services can help find you a caregiver to provide respite care in Fort Myers, Cape Coral, and all of Lee County.
When should you contact Abby Services for an In-Home caregiver to provide respite care in Fort Myers or Cape Coral?
The best time to call Abby Services for respite care in Fort Myers or Cape Coral is before the warning signs of caregiver burnout show themselves. By considering respite care in advance you can avoid burnout.
Abby Services recommends clients seeking respite care in Fort Myers consider a routine schedule. This will help to provide consistency both for the patient and the individual providing care.
Unfortunately, telltale signs like irritability, lack of energy, and sleep issues are easy to ignore and put off. If that's the case, Abby Services is available 24/7 for emergencies to help you find reliable respite care in Fort Myers, Cape Coral, and all of Lee County.
If you are feeling burnt out as a caregiver it's important to know that you are not alone. 53 million people in the U.S. provide unpaid care to friends and family according to the caregiving in the U.S. 2020 survey sponsored by AARP and the National Alliance for Caregiving.
Within the group of surveyed caregivers, 61% also hold a job and 23% say their caregiving duties have made their own health worse.
Burnout leaves caregivers like you stressed and depleted physically, emotionally, and even financially. By opting for respite caregiver services you free up time to focus on the other parts of your life avoiding burnout and enabling the time you are providing support to be safer and more enjoyable.
By seeking reliable respite care in Fort Myers you are making a sound choice to have a private caregiver take care of your loved one. Not only that but you can rest easy knowing that you are taking care of yourself as well.