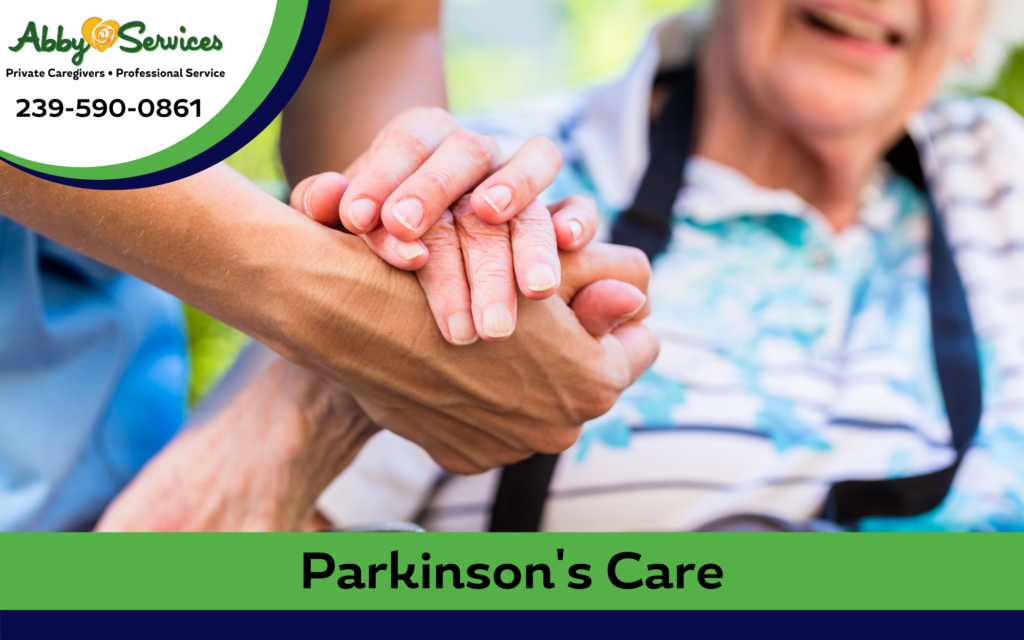 In-home Parkinson's care Fort Myers and Cape Coral.
Do you need in-home Parkinson's care in Fort Myers or Cape Coral? Abby Services can help! We have been referring the best in-home caregivers in Southwest Florida since 1997. 
How can Abby Services help find in-home care for Parkinson's patients?
Living with Parkinson's disease (PD) can be difficult, both for the patient and their family. As a chronic, progressive, neurodegenerative disease, PD can be physically and emotionally difficult to handle. That's why Abby Services takes a "family first" approach to the way we treat and serve our clients. 
Our "family first" approach helps patients and their families remain in control and safe with the support of a Parkinson's in-home caregiver throughout the disease process. 
At Abby Services we are experts on helping families find the right caregiver to safely meet their needs. The helpful link below can help families begin the process of finding the right caregiver for their loved one. 
Our family first approach to in-home Parkinson's care is accomplished by enabling a family, together with their loved one to:
When deciding how to care for Parkinson's patients at home experience matters.
Scott Strachan RN is a nurse and co-owner of Abby Services. He has years of personal and professional in-home Parkinson's care experience. Scott and his Abby Services team recognize that every patient is different, that's why, even with all of our experience, we have the best experts around to help guide your loved ones' care, YOU.
Together with the input and recommendations of our RN, we can help you develop a personalized care plan that delivers stability, support, independence, and quality of life, tailored to meet your personal needs. This is accomplished by helping clients develop their own care plans.
By developing a Client Directed Care Plan, we can use the information you provide, to ensure the in-home caregiver you work with, has the tools necessary, to be sure your loved one:
Local resources for in-home Parkinson's care are right here in Fort Myers and Cape Coral.
Abby Services is based right here in Fort Myers. As a local senior resource, we have helped many residents find the in-home Parkinson's caregivers they need to remain independent.
Another local resource is The Hope Parkinson's Program. They provide assistance through education, activities, and support by hosting a number of programs and activities for PD patients and their families.
One of the best programs they offer is a Movement Class that helps to manage impaired balance and diminished coordination. Some experts believe these types of activities may slow the progression of the disease.
There are also many online resources that you can use from home. We encourage you to review our information on exercise with Parkinson's disease to help your loved one remain active at home while managing the progression of PD.
With the support of friends, family, and the Parkinson's in-home caregivers referred through Abby Services, it is possible to remain safe and independent as your disease progresses.
More importantly, working with available resources and remaining at home allows patients to be proactive and support their independence in managing their health and care.
With the support of an In-Home caregiver, we can help limit family caregiver burnout, help to ensure the stability of care, maintain flexibility in the patient's life, and help to maintain a safe environment.
If you are seeking Parkinson's in-home care in Fort Myers or Cape Coral just call 239-590-0861 for help.