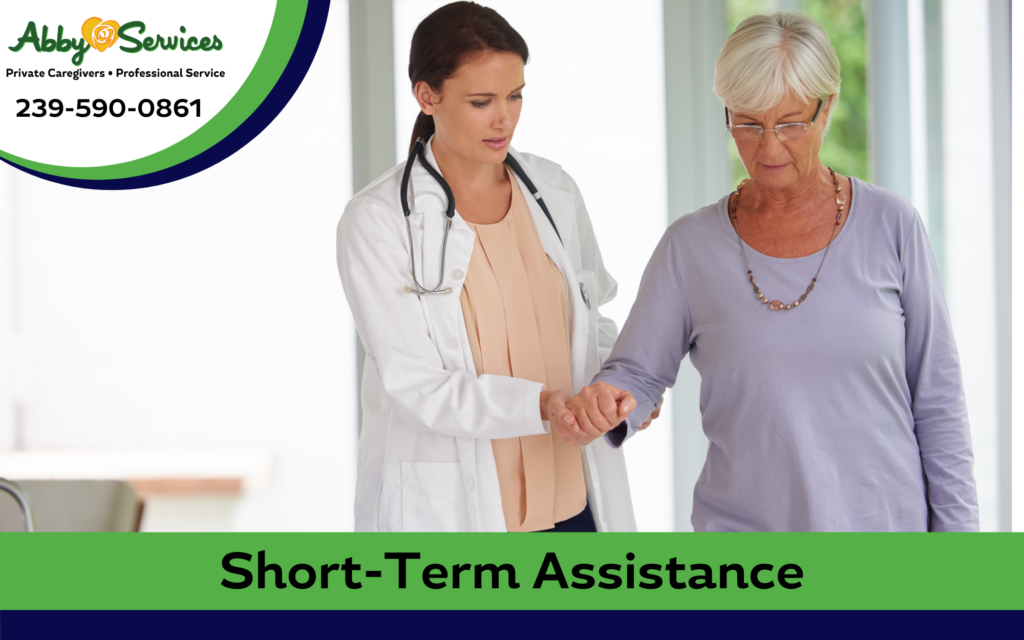 Sometimes you just need a little help from a professional in-home caregiver.
Do you need short-term senior care? In that case, Abby Services of Fort Myers has got you covered. The caregivers we refer can assist you with all of your in-home caregiver needs short or long-term.
Caregivers are available for as little as 4-hours one-time, all the way through 24/7 to provide in-home support for as long as you need. While we do have a 4-hour minimum we recommend a minimum of 6-hours for the best caregiver experience.
What is short-term senior care?
Short-term senior care refers to a range of services designed to provide temporary assistance and support to older adults who require additional care and supervision for a limited period. It serves as a valuable resource for seniors who may need assistance following a hospital stay, recovering from an illness or surgery, or when their regular caregivers need a break.
Short-term senior care can be provided in various settings, including assisted living facilities, nursing homes, and even within the senior's own home with the help of professional caregivers or home health aides.
These services typically encompass personal care, medication management, meal preparation, transportation, and social activities tailored to the individual's needs. Short-term senior care offers a crucial bridge between hospitalization and a return to independent living, promoting a smooth recovery while ensuring the safety and well-being of older adults.
The benefits of short-term senior care are manifold. Firstly, it provides a safe and supportive environment where seniors can receive the necessary medical attention and assistance with daily activities.
Trained caregivers and healthcare professionals are available around-the-clock to monitor their health, remind to take medications, and provide any required medical interventions they are trained to provide.
This reduces the risk of complications and promotes a faster recovery process. By receiving short-term senior care patients can regain their strength, mobility, and independence in a safe and familiar setting.
Overall, short-term senior care plays a vital role in meeting the transitional needs of older adults, ensuring they receive the support necessary to regain their health and return to their regular routines.
The following are examples of some common situations that require short-term senior care.
Many patients and their families do not consider working with a private caregiver until an emergency.
This is understandable. We all want to remain independent. Seeking a private caregiver is an easy thing to put off. Recognizing that a private caregiver is needed can also be a difficult reality to confront. It is often only when an emergency occurs that a private caregiver is even considered.
At Abby Services we can help find a caregiver after an emergency, but we encourage clients to consider having a caregiver in advance to avoid these emergency situations.
Finding a safe effective home care worker can be challenging. However, when short-term senior care is needed we are there. We are on call 24/7 to help families in Fort Myers and Cape Coral with their emergency last-minute needs. Our services are designed to be flexible to meet clients' and their families' needs.  Short or long-term we can help.
That's correct, you only pay for the service you receive, with no long-term commitment. Of course, once you start with Abby Services you can call any time and expect the same level of service and support. Even when our client's needs are short-term, we can refer a professionally trained caregiver to help them remain safe and independent in their home.
At Abby Services we believe a client together with their family are the ones best suited to manage their care. 
Following this philosophy, we allow and encourage families to let us know exactly what services they would like to receive from their caregiver. Short-term senior care is best directed by a patient or their family.
Don't worry though, you aren't alone.
Our nurse, Scott Strachan has the experience and training to help families develop a personalized care plan that delivers stability, support, and quality of life.
Developing a client-directed care plan with clear expectations and guidelines allows your in-home care provider to receive direction from the individual who knows the patient best, you.
By developing a personalized list of patient and family expectations, direction, and information, we can help to ensure the in-home caregiver you work with has the tools necessary to be sure your loved one stays safe and independent in their home.
Here are some of the things your caregiver can assist with:
Ambulation
Bathing
Dressing
Toileting
Feeding
Transfers
What if you need more than short-term senior care?
Abby Services has you covered short or long term. The caregivers we work with are available short or long-term. Many seniors and their families like to start with short-term senior care services and then increase their time frames as they see their needs increasing.
This flexibility helps families and the seniors we support remain safe, independent, and in control in their homes. Caregiver services can be increased or decreased as needed with little notice.
It really is that simple.
Yes with just 1 call, even if you just need someone to "be there", we have caregivers who can be sure your loved one remains safe at home.
A loss of independence can be a challenging thing for seniors to manage. When considering short-term senior care we recommend considering how a loss of independence will affect the individual. To address this concern we have a
resource
with useful tips and insights to help families and seniors cope with a loss of independence. All short-term senior care services are subject to caregiver availability.
Please be sure to call us at 239-590-0861 with any questions. We can help!