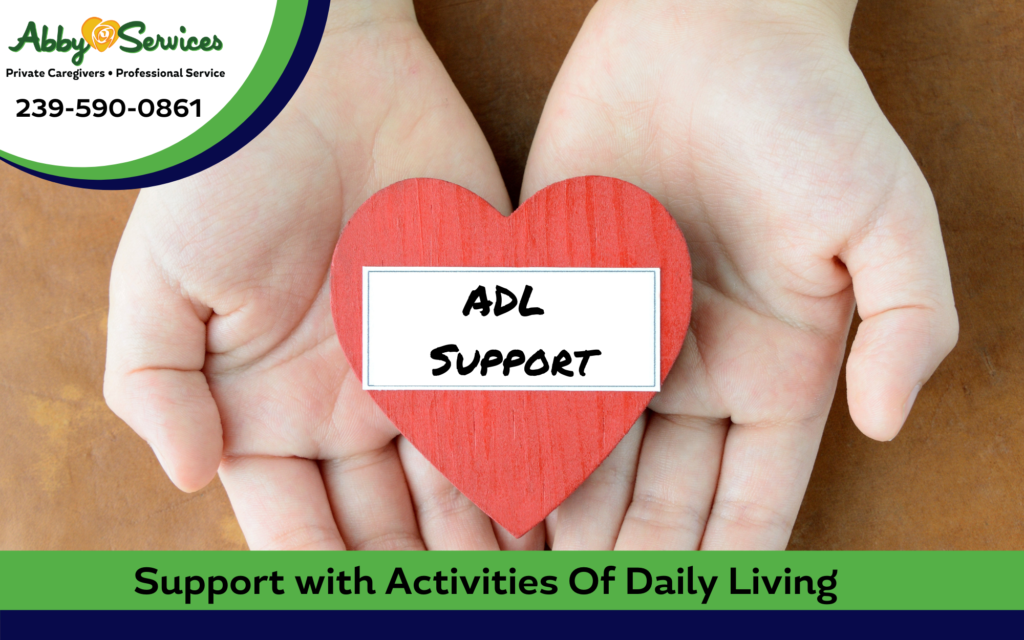 Do you need activity of daily living help in Fort Myers?
With just 1 call Abby Services can find a caregiver who can provide activity of daily living help to keep you safe and independent. Not only can referred caregivers can assist with activities of daily living and much more.
What is an activity of daily living (ADL)?
Activities of Daily Living, sometimes abbreviated as ADL's are key life tasks that people need to manage, in order to live at home and be fully independent.
The following are key Activities Of Daily Living: 
Ambulation is an individual's ability to get from point a to point b. It can include walking or using a wheelchair or other assistive device.
Bathing refers to cleaning your body in any way; washing in a bath, shower or even assisting with a sponge bath.
Dressing includes selecting clothes, putting them on and removing as necessary.
Feeding refers to one's ability to get food from their plate to their mouth. It does not typically refer to food preperation.
Toileting refers to one's ability to get to & from the toilet, use it, and clean oneself up afterward.
Continence refers to the ability to control bowel and bladder functions. 
Transferring refers to the ability to move from lying to sitting, to standing, or any combination of the three.
What if a patient needs activity of daily living help?
Abby Services has private in-home caregivers available to meet your adl needs. When a senior has difficulties with common activities of daily living it often corresponds to how much help, supervision, and hands-on care they need. Your private caregiver can provide activity of daily living help.
Difficulty with activities of daily living can be a factor in determining whether someone is considered "safe" to live at home. Inability to independently complete Adl's may indicate the need for an in-home caregiver to provide assistance in order for someone to remain safe and independent.
With a private in-home caregiver, individuals who struggle with completing some, or all of the following activities of daily living, can remain safe and independent at home.
The importance of measuring ADL's
ADL's are important in evaluating an individual's functional level. This can be a factor in determining if they are safe to live at home or in determining the level of support required at a senior living facility. Another reason it's important to know the level of activity of daily living help you need is that ADLs are also used as eligibility criteria for many elder care services, benefits programs, and even insurance coverage.
How do you decide what you need?
At Abby Services of Fort Myers, we believe a client together with their family are the ones best suited to manage their care. 
Following this philosophy, we allow and encourage families to let us know exactly what services they would like to receive from their caregiver.
Don't worry though, you aren't alone.
Our nurse,
Scott Strachan
 has the experience and training to help families develop a personalized care plan that delivers stability, support, and quality of life. With your input and our guidance, we can be sure your loved one receives the activity of daily living help they need to stay independent and safe in their home.
Developing a client-directed care plan with clear expectations and guidelines allows your in-home care provider to receive direction from the individual who knows the patient best, you.
By developing a personalized list of patient and family expectations, direction, and information, we can help to ensure the in-home caregiver you work with has the tools necessary to be sure your loved one stays safe and independent in their home.