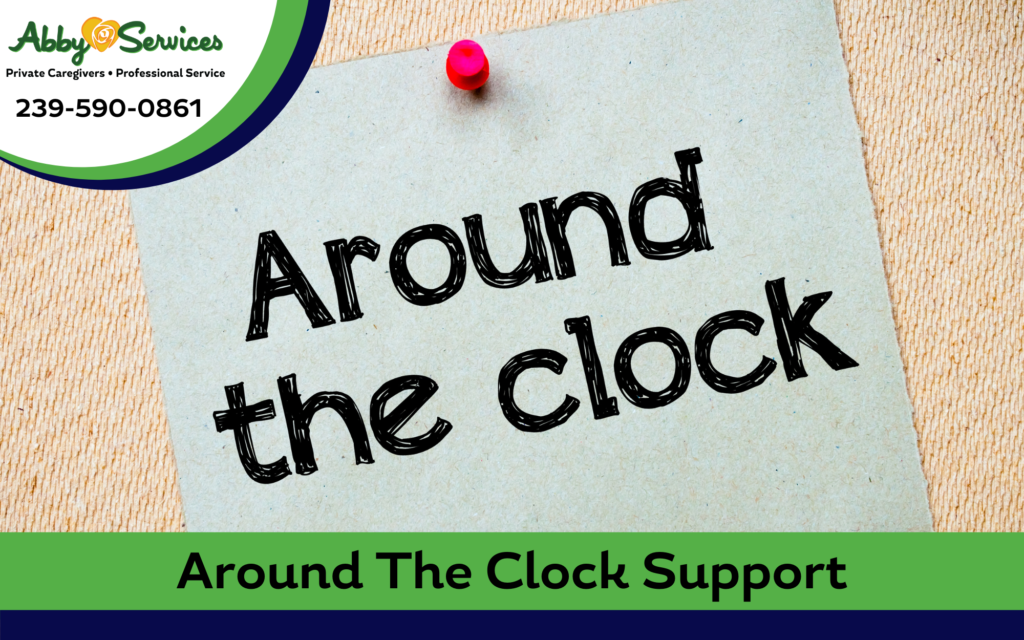 Are you seeking 24 hour in home care in Fort Myers or Cape Coral?
 Abby Services can help you find 24-hour in-home care. How? By referring the best in-home caregivers in our area! Our Abby Services team is available around the clock to help you find the best in-home caregivers in Fort Myers, Cape Coral, and all of Lee County.
When people call Abby Services seeking around-the-clock care, they typically want 24-hour in-home care. However, there are some important factors to consider when thinking about around-the-clock support.
Abby Services can help clients find the best solution to meet their particular needs. By working together with our nurse Scott Strachan we can help families develop a personalized care plan that delivers stability, support, and quality of life that meets their needs for any time frame.
Why seek 24 hour in-home care?
24-hour in-home care offers a wide array of benefits that prioritize the comfort, safety, and well-being of individuals in need of assistance.
With round-the-clock support, individuals can remain in the familiar and comforting environment of their own home, surrounded by cherished belongings and loved ones.
The continuous presence of a caregiver ensures immediate response to any emergency or unexpected situation, providing peace of mind to both the individual and their family.
This level of care also allows for personalized attention and tailored support, promoting independence and preserving dignity. From assistance with daily activities to medication reminders, meal preparation, and companionship, 24-hour in-home care creates a nurturing and supportive environment that enhances the quality of life and promotes overall wellness.
Important factors to consider when seeking 24 hour in home care in Fort Myers and Cape Coral.
When hiring a private caregiver it is important to strike a balance between your actual needs and the hourly cost of having a caregiver available.
If you do believe you require 24-hour in-home care with full caregiver support, we recommend having a team of trained caregivers available to assist in your home.
Typically the best format for 24-hour in-home care is to break your schedule down into 12-hour shifts. This allows you to have a caregiver who is awake, ready, and available to assist as needed.
Live-in care

 

IS NOT

 

for seniors who need around-the-clock assistance from a caregiver

.

This is due to the expectation that a live-in caregiver receives uninterrupted downtime that may interfere with the time a client actually requires support.

With a live-in caregiver, the client provides food and a place to sleep with the expectation that a caregiver has a set period of time where they sleep uninterrupted. 

Live-in-care can be challenging.

Typically if a client is seeking around-the-clock care, they are doing so because they anticipate the need from a caregiver both during the day and at night.

The expectation is that a caregiver has uninterrupted time to sleep defeats the point of seeking 24-hour in-home care.
Why? We believe it is the equivalent of hiring a roommate who you are responsible for feeding and housing. More than that, this individual may sleep through the times a client may need them most. 
This is what Abby Services Recommends to clients seeking a caregiver around the clock.
Based on the reasons outlined above we at Abby Services does not recommend Live-In-Care. We encourage all clients seeking 24-hour in-home care to consider having a caregiver who is ready and able to truly support them 24/7.
This is accomplished by referring caregivers in 12-hour intervals and developing a day and night team who is ready to assist and fill in as needed. 
You can cancel your 24 hour in home care at any time.
One of the advantages of working with Abby Services to find a team of caregivers to provide 24 hour in home care is the flexability. You can cancel or change your requested schedule at any point. 
Clients may see that they do not truly require 24 hour in home care. in that case they can manage their requested schedule as they choose by eliminating times they don't need.
Some clients who initially require 24 hour in home care eventually only require 12 hour coverage at night, 12 hour caregiver coverage during the day, or even visits as low as 4 hours at a time.
Technology provides a good option for clients who want 24 hour monitoring, without paying for 24 hour care.
By leveraging current internet video technology a client who simply requires monitoring at night (or day) can have a webcam or series of webcams that can be remotely monitored by families.
In addition to traditional video feeds there are motion detection and devices that notify when a door is open which can aid in this type of solution. 
Just call Abby Services at 239-590-0861 to discuss how we can help you with your 24 hour care needs.
As you can see 24 hour in-home care can be a complex subject. Don't worry, we have you covered. We have been helping the residents of Fort Myers, Cape Coral, and all of Lee County find the best caregivers to be sure they can remain safe and independent for as long as they choose.