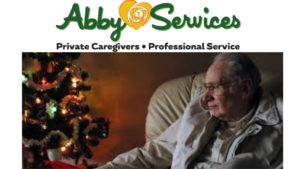 This is a time of year in South Florida when family and friends from up north come down to escape the cold. While it can be a great time to catch up with family, friends, and loved ones, it can also be a time when the decline of an aging individual becomes apparent. In the past options were limited. If an someone was declining, they would have to make the choice to move to a facility that can meet their personal care needs.
Many however wish to remain at home and in control of their lives and environment.  With the support from a caregiver from Abby Services many can remain independent and in control in their own home. In home care is provided by a private caregiver who can assist an individual in their home as directed by themselves, a family, member or anyone watching out for their welfare. This helps keep the individual in control and safe. Here are just a few warning signs to watch for to know if your loved one may need some extra help. Sometimes it is not so clear, in that case it is absolutely free to meet with a nurse who can review your situation and make suggestions based on your individual needs and circumstances.
Here is a recent video conversation with Scott Strachan.
Forgetfulness.  Although some believe it is natural for older adults to become more forgetful, forgetfulness could also be a warning sign of Alzheimer's Disease or another form of dementia.
Unkept Home.  Garbage not taken out, dishes left undone or laundry piling up. A messy home may show that activities of daily living (ADLs) such as cooking and cleaning have become too difficult for your loved one to manage.
Poor Nutrition. Expired foods or a freezer full of TV dinners could suggest cooking has become challenging. Cupboards that contain multiples of the same item may indicate that the person forgot what they had at home when they were out grocery shopping. A private in-home caregiver can help with grocery errands or meal preparation.
Poor Hygiene. Loved ones no longer taking care of themselves, bathing, or failing to brush their teeth are all signs of poor hygiene and self-neglect. Poor hygiene could be the result of mild cognitive impairment or other conditions, including challenges with mobility or coordination.
Falls or Injuries. You may see bruising and other discoloration even though your loved one won't admit to falling. Falls could be a sign that your loved one has decreasing mobility, has difficulty walking or balancing by his or herself, or suffers from vertigo or nausea. A caregiver can provide mobility support and monitor for other symptoms to reduce fall risk.
Personality Changes. You may notice that mom has become withdrawn or moody and no longer enjoys the activities she used to participate in regularly. Changes in personality can be demonstrative of Alzheimer's or depression brought on by aging and loss of independence. A caregiver can provide essential companionship care and can help mom take a walk, visit the local senior center, or engage in a new hobby that promotes positive mental health.
Isolation. You might notice that dad no longer makes any trips out of the house, keeps up with friends or goes for walks around the neighborhood. Social isolation can have many causes, but it could be a sign that your parents are having difficulty managing their declining conditions and are afraid to ask for help.
Health Issues. If a loved one took a long time to recover from his or her most recent illness or currently has a progressive or chronic health condition, home care could help by monitoring conditions. A caregiver will note of any changes in appearance, such as rapid weight gain or weight loss, and also ensure ADLs are properly supported to ensure a smooth recovery and to optimize wellbeing.
Dangerous Driving/Accidents. Nicks or dents on your loved ones' car could indicate compromised driving ability. Check to see whether a loved one wears a seatbelt, how easily they get distracted and other safety precautions to evaluate if he or she needs help with transportation and errands. Unsafe driving can be anonymously reported in Florida using the form  referred to in this article.
Second Opinions. If you are still unsure of the best option for your loved one, arrange for a social worker professional geriatric care manager or a nurse from Abby Services to visit for an informal evaluation. Adults are often more likely to share frailties or doubts with a professional than with family members.
To make arrangements for a caregiver simply call Abby Services at 239-590-0861.