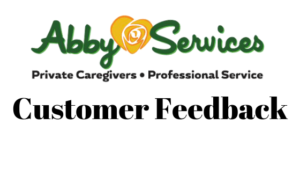 Sometimes at Abby Services the feedback we get is a simple "thank you". With this patient, it was clear they appreciated the fact that they did not have any long term commitment. They could receive care from their caregiver when the wanted it, put their caregiver on hold as they needed, and would be able to resume caregiver services as needed if their circumstances changed.
Fortunately they did not require any additional services. However if they did we would have been there. We are available around the clock to help.
Thank you for the services you have provided us these past few months. Although we have been satisfied with our caregivers help, we will not be needing anyone after Friday. Should circumstances change we will call and would not hesitate to use your services again.
Respectfully,

Shawn