Abby Services Medical Marijuana Consulting: Medical Marijuana for senior citizens.
Medical Marijuana for senior citizens is nothing new. It is a natural product that has helped mankind for many many years. however, it has only been recently that many seniors are rediscovering the benefits of medical marijuana. Those who haven't are still curious about its benefits.
How Abby Services works to educate and support those seeking medical marijuana for senior citizens.
During a recent visit to Amavida, a retirement community in Fort Myers, Florida, it was clear that despite years of misinformation many are still curious about medical marijuana for senior citizens.
Abby Services was there together with Dr. Sonn of the Iona Cannabis Clinic to provide an educational presentation about CBD, Medical Marijuana, and its uses.
According to Scott Strachan RN, "from the moment, we walked in the door of this beautiful facility, it was clear that the seniors attending wanted to know more about Medical Marijuana. Sitting on the front desk of the building were stacks of the most recent AARP with a big marijuana leaf on the cover." 
The article from AARP Scott references is included below. In the article, some of the concerns and issues seniors have with medical marijuana are identified.
Abby Services saw that there were many questions about medical marijuana for senior citizens.
Abby Services saw a need and a solution. Abby Services has been helping to connect local seniors with excellent in-home caregivers for years. Education is a big part of what Abby Services is known for. It was clear seniors were struggling with finding resources for clear and concise information about medical marijuana and other medicines.
Therefore, Abby Services began Abby Services Medical Marijuana Consulting. It was really just an extension of the excellent service they had already provided for years. In this case, Abby Services was focusing on education and connecting seniors with available resources pertaining to medical marijuana.
Unfortunately with COVID the in-person medical marijuana consultations and support groups hosted and provided by Abby Services were put on standby. However, Abby Services recommends anyone considering medical marijuana contact Dr. Sonn and his team at The Iona Cannabis Clinic. They have a well-informed staff who are there to help. 
However, Abby Services is still supporting seniors in our area by continuing its original mission of being one of our area's best options for in-home caregivers for seniors.
Who uses it, how it may help and what the science says.
Medical marijuana has been legalized in 33 states and many medical experts now approve of its use for particular conditions that affect Americans over the age of 50. This year, the AARP Board of Directors considered the emerging evidence suggesting that marijuana is helpful in treating such conditions and symptoms, then approved a policy supporting the use of medical marijuana in the states that have legalized it, and supporting further research on the medical use of cannabinoids to help alleviate the symptoms of diseases and the side effects of the treatment for diseases. Here are seven basic facts you need to know:
Medical Marijuana:
What You Need to Know
1. You are on your own
You may be thinking, Hey, if it's "medical," a doctor will help me navigate the green new world. Often, that's not so. A few users have a medical marijuana doctor who walks them through products and shows them how to use a vape pen. But that's unusual. "Older people think there will be a prescription waiting for them at the dispensary, like at a drugstore," says Rick McKnight, 72, a retired sales executive from Ocala, Florida, who self-treats hip pain with marijuana. "It's not like that. You get your medical marijuana card. The doctor gives you some recommendations — not a prescription. Then you're on your own."
2. Dispensaries carry a dizzying variety of products
It's like a trip to an adults-only candy store, loaded with tinctures and oils, vape pens and "flower" (dried marijuana), mouth sprays and skin patches, fancy chocolate truffles, cinnamon-scented cookies, and sodas, balms, and lotions, all laced with the active ingredients in cannabis. You'll also find high-strength concentrates, waxes, and resins. What's on sale differs by state, and free samples and in-store use are against the law.
3. Today's cannabis is super-potent
"This is not the marijuana people smoked in dorm rooms in the 1970s," says Staci Gruber, the director of the Marijuana Investigations for Neuroscientific Discovery (MIND) program at Harvard-affiliated McLean Hospital in Belmont, Massachusetts. "You have to be careful." Clandestine marijuana growers have for decades been cross-breeding and selecting the highest-potency plants to create a more powerful pot. Levels of delta-9-tetrahydrocannabinol, or THC — the compound responsible for marijuana's euphoric highs — in cannabis averaged 4 percent in 1995 and rose to 17 percent by 2017, studies show. It hasn't stopped there. You can buy sealed bags and rolled joints featuring marijuana strains topping 28 percent THC and concentrates with 85 to 90 percent. Fortunately, plenty of products that are low in THC and high in cannabidiol, or CBD — the other major cannabis compound — are available.
Note: Potency varies by strain and form, and it can often be tough to gauge a patient's tolerance. So before a patient engages in a cannabis-based medical treatment, he or she should consult their doctor and approach with caution; there's limited scientific research and, as with any medication, the effects vary by user.
4. Edibles only seem low-risk
Hey, it's just candy, right? But that rainbow-hued gummy bear or little chocolate square could contain 10 milligrams of THC, plus CBD. That's three to four times the amount experts recommend for older adults. "Edibles take from 30 minutes to four hours to take effect. It's easy to eat more because you aren't feeling anything after a few minutes," says Danielle Fixen, an assistant professor in the University of Colorado's pharmacy school. "But then the effects last six to eight hours."
5. There's not enough good science about the effect on humans
And the main reason for that research gap is that at the federal level, cannabis — medical or recreational — is an illegal Schedule I controlled substance, legally on par with heroin, LSD, and street fentanyl. That's why doctors can't technically prescribe it; they can only give you state-required permission to use it. More important, scientists can't buy it at a dispensary and study it in most labs. That research gap means only a handful of the common uses of cannabis are backed by substantial evidence from human clinical trials, according to a rigorous 2017 report from the National Academies of Sciences, Engineering and Medicine (NASEM). Other popular uses — including for dementia, cancer, fibromyalgia, glaucoma, depression, and even insomnia — are less solid, the NASEM experts say. Their bottom line (albeit two years old): "Conclusive evidence regarding the short- and long-term health effects (harms and benefits) of cannabis use remains elusive."
Cannabis: Where Is It Legal?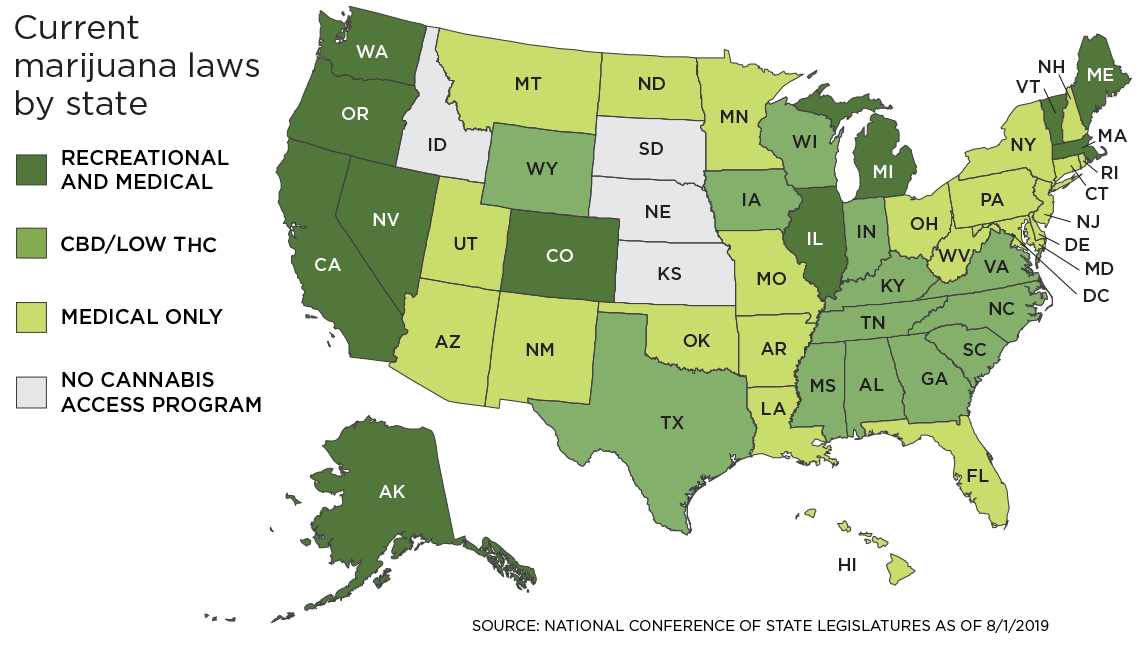 AARP
Under federal law, all cannabis is illegal to sell, possess or use. The feds, however, are reluctant to enforce the prohibition in the face of mounting support by states. Thirty-three states (plus the District of Columbia, Guam, Puerto Rico, and the U.S. Virgin Islands) permit medical marijuana for qualifying patients; a doctor's certification and patient card are generally required. State laws differ on such critical questions as who can grow it, who can sell it, and what health conditions qualify. Eleven states and the District of Columbia allow recreational marijuana use.
Under federal law, CBD (cannabidiol) derived from marijuana, which contains the psychoactive ingredient THC, is illegal; hemp-derived CBD that contains no more than 0.3 percent THC is legal to sell and consume — through the U.S. Food and Drug Administration says it is illegal to market CBD in food and supplements. Thirteen states have passed laws allowing the sale of CBD/low THC products. Details vary: Check your state's laws for the latest info.
6. Marijuana's stoner stigma persists
Whether it's a holdover from America's decades-long war on drugs or pot's still-illegal federal status, many older proponents of medical marijuana continue to hide their use. The lingering stigma associated with pot keeps some people from telling their doctor, too, says Hillary Lum, a geriatrician and associate professor at the University of Colorado School of Medicine. "In a recent survey, 30 percent of older adults didn't answer the question about whether or not they used medical marijuana," she says. "If people feel uncomfortable with it on an anonymous survey, they may also feel uncomfortable telling their doctor. That could have ramifications for their health."
7. Many doctors are in a quandary
Half of the primary care doctors working at Mayo Clinic medical offices said in a 2019 survey that they weren't prepared to answer patients' questions about medical marijuana — even though 58 percent believed it was a legitimate medical therapy for terminal illnesses, untreatable pain, and cancer symptoms.
That hasn't stopped some users — especially older adults — from approaching their doctors.
"My patients want to talk about it," Lum says. "But I'm in an information vacuum. We don't have many clinical studies to show effectiveness. Medical schools, pharmacy schools, and nursing schools haven't taught it. It's not in the pharmacy database we use for prescribing, so I don't have a lot of information about potential drug interactions and side effects."
A few institutions have declined to embrace its use. The Cleveland Clinic announced it would not recommend medical marijuana to its patients when it became legal to buy in Ohio in January. Says Paul Terpeluk, a doctor of osteopathic medicine and medical director of the Cleveland Clinic's Employee Health Services, "We're just beginning to understand the effects of cannabinoids in the body. We do not believe states should be in the business of regulating and promoting medications."
But other doctors prefer not to create obstacles to medical marijuana use. Peter Grinspoon, a primary care physician at Massachusetts General Hospital and a Harvard Medical School instructor, took the unusual step of getting trained so he could certify his patients as medical marijuana users.
"I grew up with this, so it's hard not seeing it as medicine," Grinspoon explains. His father, the Harvard psychiatrist Lester Grinspoon, is considered the "grandfather of medical marijuana" and wrote a book about the history and cultural use of medical marijuana in the 1970s; there's even a marijuana strain in Europe named after him. His brother used marijuana while battling leukemia, too.
"It makes sense to try cannabis when you consider the track record of other medications a lot of older adults take, especially for pain, sleep and anxiety," Grinspoon says. "Nonsteroidal anti-inflammatories like ibuprofen and naproxen can affect your kidneys, threaten your heart and cause gastrointestinal bleeding. Few people want to be on opiates — they haven't proven to work well for long-term relief, you get constipated and they can be addictive. Sleep and anxiety drugs can leave you sedated and may affect memory. Cannabis can be as effective as anything."
Even nursing homes are experiencing a profound shift toward acceptance. One program at the Hebrew Home in Riverdale, New York, allows residents to use cannabis capsules or cannabis oil drops and has found that it eases pain, improves appetite, and even reduced one resident's opioid use. The program stays compliant with federal rules by having residents buy and administer cannabis themselves or with the help of a caregiver who's not on the home's staff.
"The benefits are nothing short of amazing and should be more widely available to residents of long-term care facilities," says Daniel Reingold, the CEO of RiverSpring Health, which operates the Hebrew Home. The nursing home is now leading a group of nonprofit long-term care facilities in several states planning to launch a large study this fall of medical marijuana's effects in older adults.
(Note: The purchase of medical marijuana from a dispensary is not covered by the U.S. Department of Veterans Affairs, Medicare, Medicaid, or private insurance, though in some cases all may cover FDA-approved prescription drugs, such as Marinol, that are based on cannabis.)
Where AARP Stands
In March, the AARP Board of Directors approved a policy supporting the medical use of marijuana for older adults in states that have legalized it. The decision was based on the growing body of research suggesting marijuana may be helpful in treating certain medical conditions and symptoms. The policy also notes that decisions related to the use of medical marijuana should be made between a patient and a health care provider and appropriately balance clinical evidence of benefit and harm, the patient's preferences and values, and any laws that may apply.
According to the policy, "AARP also supports further clinical research of medical use of cannabinoids to help alleviate both the symptoms of the disease and the side effects of the treatment for diseases." The policy adds that "AARP believes the DEA's [Drug Enforcement Administration] classification of marijuana as a Schedule I controlled substance deters the medical use and scientific study of cannabinoids" and calls on federal officials to examine options to allow more clinical research.