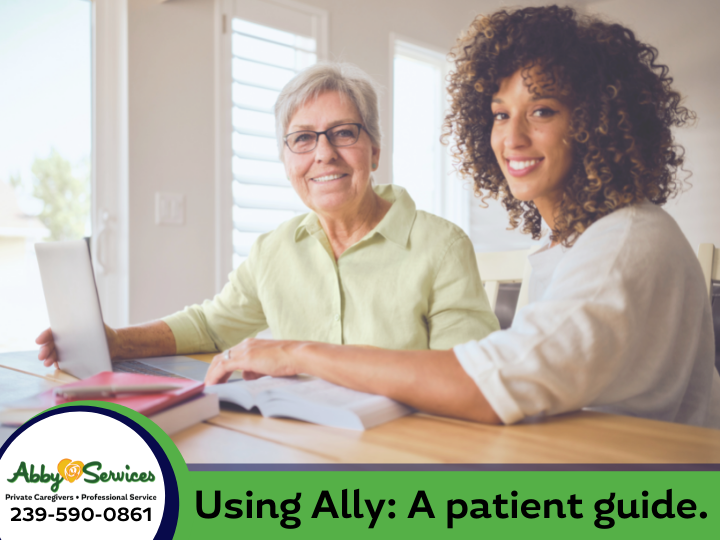 Ally is specalized software that helps clients and their caregivers connect.
Abby Services works with a software product called Ally to help connect  clients with in-home caregivers throughout Fort Myers and Cape Coral.
How does a new patient, or their family, sign up for Ally?
It is easy for patients or their families to create an Ally profile. Once a patient decides to work with Abby Services an e-mail is sent to their representative. This email will walk them through everything necessary to utilize all of the benefits of Ally.
Safe, secure, online payment processing.
One of the biggest features of Ally is that it provides a safe secure way to manage your payments. This limits who has access to your payment info and helps families manage their care securely.
While we encourage all families to utilize the full features of Ally, if you don't want to create an online account you can just complete the form below to authorize payment.
In addition to providing a payment portal Ally provides patients and families a safe and secure way to manage and view the care they receive.  Once signed up patients and their families can:
Make arrangements to pay their caregiver.
View and manage their upcoming caregiver schedules.
Review and approve upcoming payments and past invoices.
Manage and submit complex insurance claims.
Yes, Ally helps manage Long Term Care Insurance claims.
Ally helps to insure quick processing of Long Term Care insurance claims by immediately transmitting necessary claim information when an invoice is generated. This helps to insure quick, complete, and accurate insurance claims processing.
If you wish to process your Long Term Insurance Claim through Ally you must complete the authorization below.
Still have questions? Don't worry, we are here for you!
Do you have questions about how Ally works with Abby Services? We are here to help. Just call 239-590-0861 to discuss your questions or concerns with our Abby Services Team.
If you wish to speak with an Ally representative they are available at 1-800-930-0587.