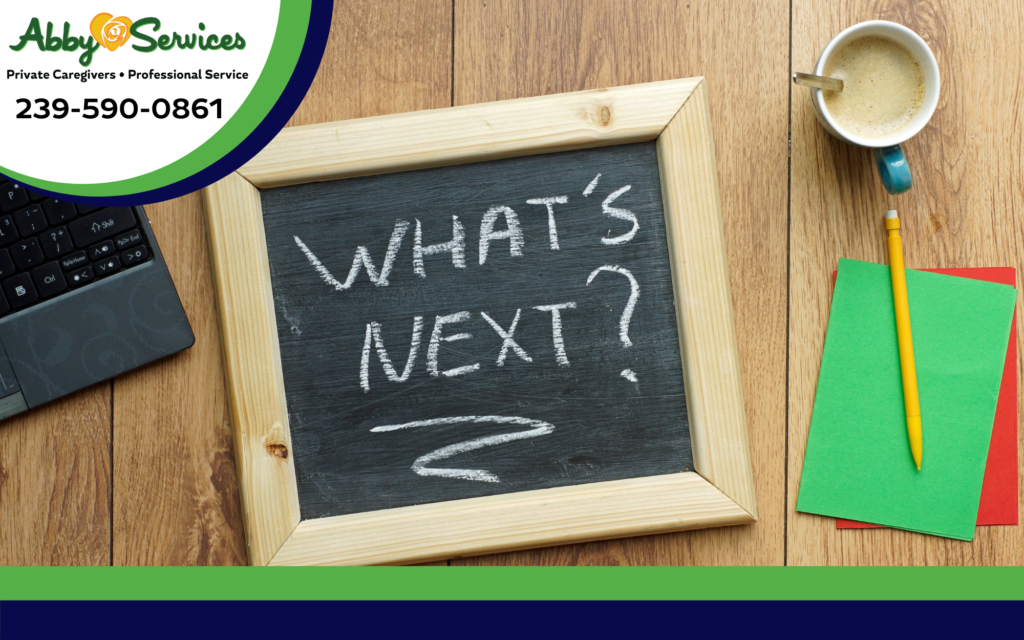 You need an in-home caregiver. Here's what happens next.
You know you need an in-home caregiver. Now all you have to do is call Abby Services at 239-590-0861. 
When you know you need an in-home caregiver one of our representatives can help to answer any questions you have. If needed you can always speak with our nurse/owner to discuss your specific situation and needs.

When you call Abby Services you will never be forwarded to an automated answering service. One of our local team members can help to answer your questions who are familiar with our area and the needs of seniors.
There is some basic information we need to gather for every client we serve. This can all be provided over the phone. 

Review Service agreement:

We have a basic 1-page agreement that includes state-required disclosures, payment information, and cancelation information. This can be provided and signed electronically, by e-mail, or text to make it quick safe and easy.

It's important to remember that you can cancel at any time and have no long-term commitment.
Just let us know where and when you want your in-home caregiver.
Just 3 easy steps to get in-home senior care.
Finding excellent in-home caregivers in Fort Myers and Cape Coral is really that easy! Just 3 easy steps and Abby Services can help be sure you, the special senior in your life, or your loved one, can remain safe and independent in their home. Of course there are important details that can help insure you have a good experience when you need an in-home caregiver.
How to have the best in-home caregiver experience.
In order for us to find you the best caregivers in Fort Myers and Cape Coral we need to know when you want them. Abby Services has the flexibility to work to find a caregiver that meets your specific needs.
With a consistent schedule, we can work to find a consistent caregiver. Simply let us know the days and times you need.
Regardless of your situation you can cancel at any time with no penalty. You are never obligated to continue with Abby Services. Should you need us in the future we are just a phone call away.
Some important points to consider once you are working with your in-home caregiver.
Bills are an inevitable part of life. At Abby Services we try to keep it simple. You only pay for the time you had your in-home caregiver. There is no long term commitment, and you can cancel at any time

Invoices are provided weekly to help you closely manage your caregiver expenses.

Invoices are provided after a caregiver's services are completed.  You pay nothing in advance and only for the caregiver services you receive.
Abby Services and the caregivers we refer are flexible to meet your changing needs. You can increase, decrease, or cancel your requested schedule at any time (4 hour advance notice required). We are on call 24/7 to be sure you receive the service and support you need.
Life is full of uncertainty. Abby Services understands that and can help you manage your specific situation with our experience, input, and pool of amazing caregivers who are waiting to help you.