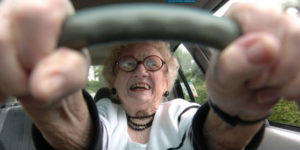 Fort Myers, Cape Coral, and Lee County, in general, are known for their beaches, tourism, snowbirds, and our senior population. Because Abby Services is known as one of the leaders in senior care we often have families asking what they should do about a parent, neighbor, or loved one who has become unsafe behind the wheel. This is often a sensitive subject and one that can be challenging to manage.
According to a report by the AAA Foundation for Traffic Safety, the rate of accidents per mile of driving increases steadily for drivers 65 and older. More worrisome still, drivers 80 and older have higher crash death rates than any other group except teenage drivers, according to the Centers for Disease Control. (One reason: Older drivers are physically frailer than other drivers and thus more likely to die in a crash.)
The first step should be to have a serious discussion with the individual you are concerned about. This is sometimes best done in advance before their driving is a concern. Ask them when they believe it is no longer safe for them to drive. Often times they may have very realistic impressions about their abilities and safety. Ask them to commit to relinquishing their driving privileges when it becomes unsafe.
Sometimes an unsafe driver may not be conscious of the fact that they are unsafe. They may also not have the mental capacity to independently make that decision. In these cases, it may be a good option to involve their physicians. They can make a professional evaluation and make a recommendation based on their professional opinion. This is usually coming from a trusted source based on an independent examination.
Another option is to anonymously report an individual to the DMV. Here is a link to the form used in Florida. Once submitted, the Department of Highway Safety and Motor Vehicles conducts an investigation to ensure there is cause to initiate a review of the driver.
If cause is shown, the driver is advised they are under medical review and are asked to provide medical information from their physician to the Department.
Once received, the information is provided to the Department's Medical Advisory Board.
After review, the Medical Advisory Board provides a recommendation regarding the individual's ability to drive.
This recommendation may be to: • Require additional information from the driver; • Require the driver to re-take the driving test, or • Revoke/deny a license.
If a license is denied/revoked, the driver may request an administrative hearing to appeal the decision.
The Florida Department of Highway Safety and Motor Vehicles has a brochure that reviews medical conditions and driver safety.
Abby Services can help those who are unable to safely drive by finding caregivers who can help them with groceries, at appointments, or simply socialize. Please contact our offices to find out more.