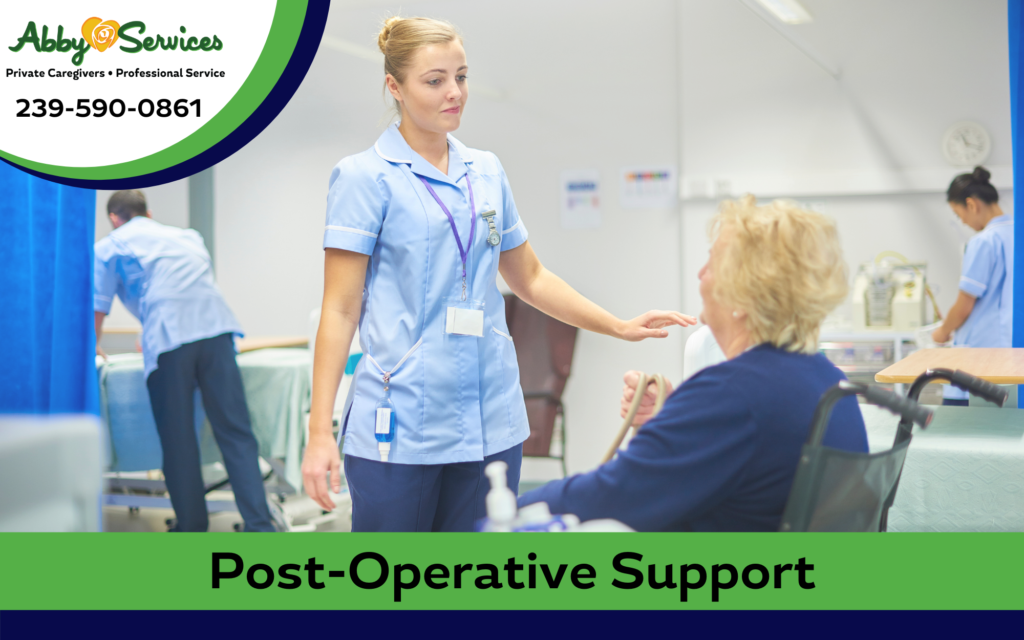 Do you need in home post operative support?
Abby Services has caregivers available to help post-op patients recover safely and quickly at home. When receiving after surgery home care you will be back on your feet in no time. Don't go home alone, if you need help call Abby Services today at 239-590-0861.
After a procedure, many physicians require their post op patient have a caregiver available to assist them at home.
Physicians require after surgery home care to help ensure the safety of their patients and be sure they receive the level of post-operative care they require. 
Once discharged from the hospital or a surgical facility, the risk for falls and mismanaged medication can significantly increase. Often post-operative patients are unaware of how much support they will need. Due to anesthesia, pain, or other factors, a post-operative patient may not be able to independently care for themselves at home. Therefore, patients and their families should begin their post-operative planning well in advance.
With a private in-home caregiver from Abby Services, you can help to ensure your safety and comfort. 
The post-operative caregiver we refer to you can perform a range of services to help you through the critical first hours, days, and weeks after surgery. This allows you to get the after surgery home care, rest and proper support that you need to make a full recovery while avoiding avoidable complications and setbacks.
Your in home post operative caregiver can assist with:
Post operative discharge Instructions are important.
When receiving post-operative after surgery home care, we recommend a patient share with their caregiver a physician's discharge orders. These orders often contain important information on what a postoperative patient can and can't do as well as areas to monitor. It is important to note that your caregiver referred through Abby Services is a CNA or HHA and can only assist with things within their training and licensure.
Developing a post surgical care plan to guide your after surgery home care.
The caregivers referred by Abby Services can assist with many things. As with all of our clients, you are the boss. You direct the care you want, when you want it, and how often you want it.
Together with the input of our nurse Scott Strachan RN, and the information included in your physician's discharge instructions, you can develop a personalized care plan that delivers safety, stability, support, and quality of life. Developing a client-directed care plan with clear client expectations and guidelines allows your in-home care provider to receive direction from the individual who knows the patient best, you.
If you have any questions just call and we are happy to help you consider the best plan to get you back to normal.
Post-Operative support and care can come in many forms.
There are many post-operative resources you may be utilizing. A private in-home caregiver can work together to actively assist in PT, OT, and speech therapies by reinforcing and aiding in prescribed activities. It is important to know the roles and responsibilities of each discipline
PT (Physical Therapy): help reduce pain and improve movement.
OT (Occupational Therapy): help regain independence with daily activities
Speech & Language Therapy: help with communication, swallowing, and eating.
Private Caregiver: help with recovery and to help remain independent.
No matter what your post operative care plans are we can help get you back on your feet in no time! Just call 239-590-0861.