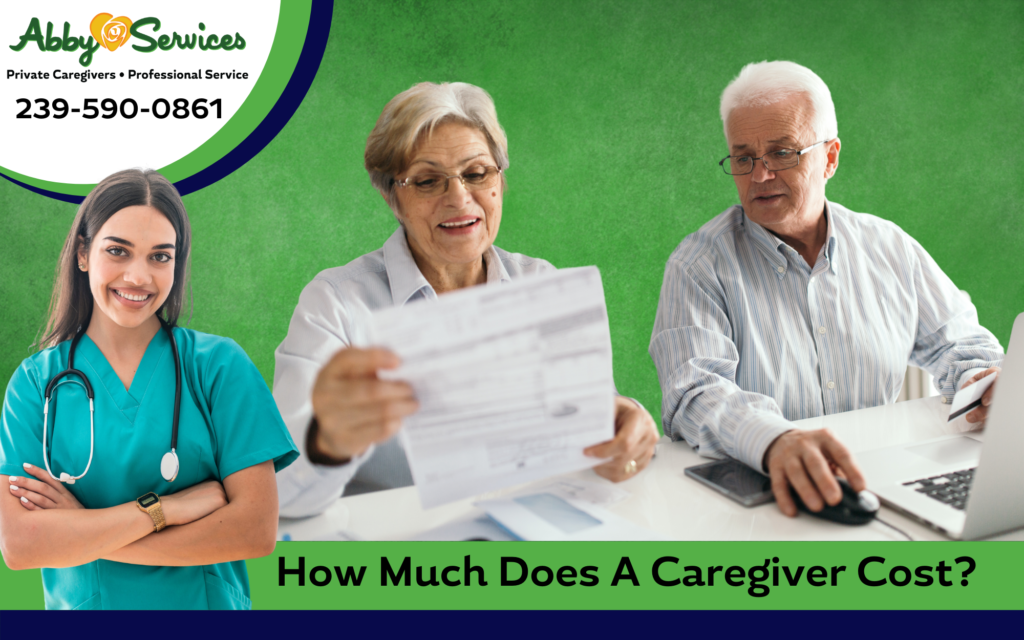 One of the first questions families ask when contacting Abby Services is how much does in-home care cost in Fort Myers, Cape Coral, etc.? Abby Services has some of the lowest cost in-home caregivers in Fort Myers, and Cape Coral. 
Residents of Fort Myers & Cape Coral can expect in-home care cost to vary between $25-$35 per hour for a CNA or HHA who is a private caregiver. 
Beware of the "Free" In-home evaluation.
Why be wary of a "free" in-home evaluation? Because often the service you are speaking with knows exactly how much their services will cost. what they are evaluating is how much you can pay. At Abby Services we have in-home consultations available but are transparent about current market pricing. Often our services can be set up with just a phone call and an email. This allows clients to quickly and easily get the caregiver support they need without any additional expenses.
The cost of a private caregiver in Fort Myers and Cape Coral has a number of variables.
This makes answering a simple question difficult to respond to without gathering some important information. 
In-home care has become an essential service for many individuals in Fort Myers and Cape Coral, providing support and assistance to those who prefer to age in the comfort of their own homes. However, in-home care cost can vary depending on several factors, including the level of care required, the duration of care, and the specific services provided.
The following is a breakdown of the main factors influencing in-home care cost:
We at Abby Services serve all of Fort Myers, Cape Coral, and the surrounding areas throughout Lee County. This represents a broad and diverse geographic area. To have an in-home caregiver on Fort Myers Beach, Sanibel, and other outlying areas will typically cost more due to geographic challenges in those areas.
Unfortunately, those in higher-cost locations will see that paying for in-home care will be more expensive. 
We have a 4-hour minimum.

Abby Services has been in business since 1996. Through our years of experience, we have found that a minimum of 4 hours of a caregiver's service is the magic number. At this level, we are able to find professional private in-home caregivers who can consistently and reliably provide care at a reasonable cost.

Want to know more about why there is a 4-hour minimum, click here.
While 4 hours is the minimum, caregivers prefer in-home care opportunities that are longer. This also results in lower administrative costs for Abby Services. This results in lower hourly rates for the clients we serve. Basically, with increased continuous hours clients will see their in-home care cost go down.
Those paying for in-home care will find that a challenging, high-need client may ultimately cost more than straightforward, uncomplicated clients. This can be related to how technical a client's needs are but also to a client's disposition or temperament.
Basically, if a client has complex needs or is "difficult" an in-home caregiver will request more compensation for their services. This drives up in-home care cost.
When seeking in-home care, families will typically call a number of home health care providers. This can be confusing and daunting. Some service providers are trained to promote a lower cost to attract customers, then raise the in-home care cost once a client has committed to using their service.
Some in-home healthcare services will insist on a meeting to "evaluate your situation" when in reality they are attempting to determine how much they can get away with charging you.
Some in-home care services may justify inflated costs on expenses that do not protect you the consumer such as workers comp.
Those paying for in-home care need to consider other factors that may affect the cost of a caregiver. Some of these factors include; spousal needs, challenging pets, combativeness, etc.
Abby Services will work with a patient and their family to consider how to get the best caregiver at the best price.
How to pay for in-home care.
There are a number of ways to pay for in-home care. Many mistakenly believe that Medicare covers all in-home care costs. That is simply not true. Medicare does cover many important in-home cost (s) but custodial care by a private in home caregiver is not one.
In this article from AARP, they address in-home care cost, If you can afford in-home care, and they also address the different ways you can pay for in home care. Some of which are covered below.
The most common ways patients pay for in-home care.
In our experience, this is the most common way individuals pay for in-home care in Fort Myers and Cape Coral.
It really is a balancing act between in-home care cost vs value. Many clients would like to have a caregiver 24/7 but they may not truly need that level of service.
Fortunately, Abby Services is very flexible and can help you find the perfect balance of receiving the care you need, at a price you can afford. It is also important to know that our services are flexible and can be increased, decreased, or stopped as you see fit.
Long-term care insurance is the second most common way patients pay for in-home care.
The time to consider insurance is before you need it. If you are seeking care and do not have long-term care insurance you will not get coverage.
Those who do have Long-term care insurance policies often find out they are challenging to navigate when making a claim.
Don't worry though, the experts at Abby Services can help. Just call 239-590-0861 to discuss using your long-term care insurance policy with one of our specialists.
There are other, less common, ways individuals pay for in-home care. some of the options include
Financially qualified government assistance
Other regional programs
Abby Services is consistently the cheapest option for in-home caregivers in Fort Myers, Cape Coral, and all of Southwest Florida.
Thats right, Abby Services is consistently one of the most cost-efficient options to find an in-home caregiver in the Fort Myers area. Don't take our word for it. Often the best way to research prices is to simply call around. There are tools available to help consumers see trends in the cost of in-home caregivers.
One such tool consumers can evaluate the cost of in-home care is through annual surveys by major Long Term Care Insurance Providers.
How does Abby Services work exactly?
Abby Services is a state-licensed Nurse Registry. We specialize in the screening, credentialing, and referral of professional private in-home caregivers. When a client calls and asks how much the service costs, we share what the current standard market rate is for a caregiver through a state-licensed service. This includes the cost that the caregiver charges, as well as the cost of our services. 
Some compare our services to a real estate broker. We do not establish the cost of a private caregiver, but through our years of experience and local involvement know what the typical cost for a private caregiver in Fort Myers, Cape Coral, and our surrounding area is.
We encourage all in-home caregivers to consider competitive rates. This helps keep the cost down for clients and helps in-home caregivers earn more.
Ultimately, should your caregiver request a pay increase, we can share that request with you and provide input on options on how to proceed. Again, this is similar to a real estate broker, where we facilitate and help in negotiations.
When evaluating in home care cost in Fort Myers and surrounding areas call the experts.
It is free to discuss with our Nurse and owner Scott Strachan your specific situation. Through this conversation we can make suggestions you may not have considered and share with you the best caregiver rates our area has to offer. Just call 239-590-0861!