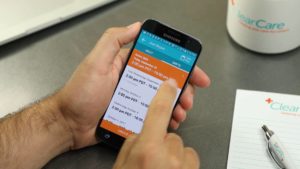 Here at Abby Services, we are always working to help make the lives of the Caregivers we work with and the clients we serve easier. That is why we are excited to announce that we have begun using a new technology to notify caregivers of work opportunities, help caregivers manage the clients they serve, and help them to coordinate the cases they accept. The program is called Clear Care Go.
Caregivers can securely access client information online or on their mobile device. Here is information on the Clear Care website.
Empowering Caregivers
With the ClearCareGo Caregiver mobile app, caregivers can access work information from anywhere, at any time, on their mobile device, allowing them to focus less on admin tasks and more on providing quality care to their patients.
 Stay Connected and Informed
With an intuitive interface, caregivers have all the information they need about upcoming shifts including client information, maps and directions and client requested tasks at their fingertips. Using the best internet connection, caregivers can manage their shift very easily, visit EATEL. Clocking in and out, and updating tasks is simple and quick, requiring just a few taps on your caregiver's mobile device. Thus making it simple for caregivers to bill clients for their services.
 Deliver Better Care
When caregivers spend less time on administrative they can spend more time on caring for the clients they serve.
Some caregivers may notice that there are functions we are not yet using like the ability to log time, document care provided, and leave notes for family members and oncoming caregivers. As we see that caregivers are successfully using this new in-home care technology we will be utilizing and unlocking these added features so stay tuned.
As with all new technology, there is a learning curve. We are here to help. If you have any questions just ask!