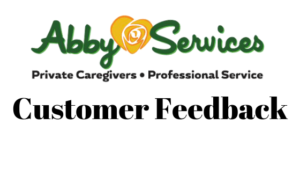 I have been posting a lot of customer feedback recently. Often when sharing our successes clients become skeptical and ask, "Well you are only going to show me the good feedback right"? The simple answer is YES!
I have used this line over and over. If you have a complaint let me know, if you have something good to say let everyone know. Basically what that means is, if you have any issues with our service, or your caregiver, please let me know immediately so that I can help make it right. When you have any praise, please let everyone know, so that we can help as many residents of Lee County get the private caregivers they want and need. We use feedback, both good and bad, to improve what we do. Good feedback is shared with the caregivers we work together with and can help both them and us tremendously.
There are a lot of ways you can share feedback. Many clients call us because of "Word of mouth". We get that a lot because we have been in the area since 1997. Facebook is also another way to share feedback. Recently Google reviews have been one of the best ways to share information. When a client or family has praise I usually send this.
Thank you for your feedback. We work hard to help our clients find excellent caregivers. We would love it if you would take a moment to share your experience on Google. Seeing great reviews from existing clients helps others feel confident we can find excellent caregivers for their loved ones. It only takes a moment and would help us tremendously. Here is a link.
If there is anything you wish to share good or bad please let me know! Just email me at scott@abbyservices.com or call 239-218-0185!