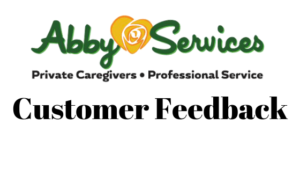 One reason many trusted health professionals refer clients seeking private caregivers to Abby Services is our large pool of pre-screened caregivers who are available with short notice. Abby Services is on call 24 hours a day 7 days a week to help our clients find the caregivers they need. In this case, a family was referred to us by Hope Hospice. However we work with medical professionals at Lee Memorial, Cypress Cove, Shell Point, Heartland Rehabilitation, and all other local resources for seniors. Here is what one clients family had to say:
Last November my father was accepted into Hope Hospice under a wonderful assemblage of health care professionals. While his final outcome was not what we had prayed for , we are certain that the final days that we were able to spend with him would not have been possible if it were not for the extraordinary care he recieved from his caregiver and the dedication of the staff at Abby Services. You responded immediately to our request for home care and within four hours of our call, your team was in place and dad was made comfortable the moment we arrived home.

We were extremely fortunate to have two wonderful caregivers who lovingly treated dad with extraordinary respect and kindness. There was never a request made or questions asked that was not responded to with prompt attention and genuine concern for him and his family.  The fact that dad was able to die with dignity in the home that he loved was due in large part to the quality of caregivers that he recieved from Abby Services, for which we will always be grateful.

The men and women of Abby Services are doing Gods work and we are eternally appreciative of their dedication.