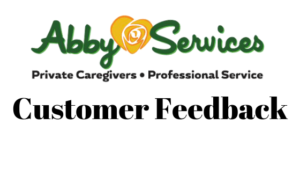 At Abby Services the caregivers we work with are truly special. This is communication a family had with their caregiver. It is obvious that the personal care she provided helped both her patient and also their family:
Thanks for all you did for (my dad)! All the extra stuff really made a difference. People in your profession (caregivers) are truly special. Good luck in all you do.
Please know that (my sister) and I know how much you (his in-home caregiver) have been there for him. Many hugs.
Thank you for everything you did. Dad enjoyed your company and I felt at ease when you were with him.
The professionals at Abby Services have proudly helped residents of Fort Myers and Cape Coral find excellent, compassionate, cost-efficient in-home caregivers since 1997. Let us help you find that special caregiver to make your life easier.  Call today to see how we can help you.