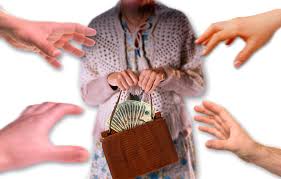 Families out of state, out of the area, or simply just not available 24/7 may not be able to keep a constant eye on their loved one. Unfortunately this opens the door for criminal activity. Seniors due to mental condition, loneliness, or simply not being aware of current scams, are sometimes the target of unscrupulous individuals.
By working with an In-Home Caregiver Service like Abby Services there is one more person watching out for your loved ones. Caregivers can communicate with family and can report concerns to Abby Services for input and guidance. This helps to safeguard the safety and wellbeing of our area seniors.
Abby Services In-Home Caregivers has worked with our local law enforcement agency The Lee County Sheriff's Office or LCSO for years through initiatives such as LEAPP (The Lee Elder Abuse Prevention Partnership), sponsoring and co-hosting speaking engagements through the Public Affairs Department, and working with the Senior Services Division.
Involvement with our local law enforcement and programs targeted to helping seniors is one more thing that sets Abby Services In Home Caregivers apart from other In Home Care providers.
Recently an article ran about the impact of fraud and financial abuse on our senior population. It is a sobering read the highlights the need for constant support and vigilance.